We are Orogold Air Duct Cleaning
UV light – Air Purification System
We are the Best Air Duct Cleaning Service In Austin, Tx
If you are looking to hire experts for your HVAC system, So you are on right place!
We are committed to the best quality in the field of industrial cleaning, home and Sanitations or Air Duct Cleaning.
UV light – Air Purification System
Description:
Ultraviolet light is a type of electromagnetic radiation. It works just like X-rays.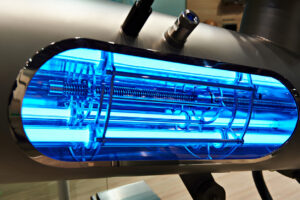 It can destroy cells and this ability is what makes it useful for ending air impurities.
How UV Light Works In Air Purifier 
In an air purifier that has UV-light function, first, the air is moved into the machine and passes through a little filter, such as a HEPA filter. Then the air goes through a little chamber in which UV light is present. Remember that UV light will not be released into the room so it will not be shown to you and it can't affect your health. In the end, air will pass through the last filter and then released into the room in very pure form.
UV Lighting Installation and Repair Services
We can install ultraviolet (UV) lighting in your home and office by modifying your HVAC system, and it can provide great health benefits by eliminating viruses and purifying the air you inhale. Many of our satisfied customers have installed UV lights to keep the air in their homes as pure and clean as possible. We can install UV lights as a separate service or we can install them with the air duct cleaning service. We will attach UV lights inside your HVAC system and these highly-effective lights will be installed close to the air handler. If you are concerned about the health of your family and want to breathe clean and pure air, give our professionals a call and ask about UV lighting.
Orogold Air Duct Cleaning Air Duct Services
Are you looking for air duct installation or cleaning services in Texas? Let us assist you. Orogold Air Duct Cleaning has professionals to help you with all your air duct problems. We assure quality and immediate work. You can call us now for any of your questions and price estimates for excellent cleanup services.
_ What Our Customer Say? _
_ Our Service Locations _
Servicing all of Austin Tx
Kyle,
Manchaca,
Buda,
Lakeway,
Westlake Hills,
Driftwood,
Cedar Park,
Pflugerville,
Georgetown,
Round Rock,
Liberty Hills,
Hutto,
Manor,
Spicewood,
Leander,
San Marcus,
Wimberley,
Taylor,
Rollingwood,
Del Valle,
Bastrop,
Creedmoor,
Sunset Valley,
Lago Vista,
Paige,
Horseshoe Bay,
Lockhart,
Hays,
Bee Cave,
The Hills,
Cedar Valley,
Bear Creek,
Burnet,
Lampasas.
Feel free to contact with us for any kind of query.
Thank you for your interest in hiring Orogold Air Duct Cleaning. We consider communication with the customer.
Get a quote for your next cleaning