We are Orogold Air Duct Cleaning
We are the Best Air Duct Cleaning Service In Austin, Tx
If you are looking to hire experts for your HVAC system, So you are on right place!
We are committed to the best quality in the field of industrial cleaning, home and Sanitations or Air Duct Cleaning.
The ductwork in your home has an incredibly important role to play, whether you realize it or not. When it comes to keeping your home warm in the winter and cool in the summer, there's a good chance your ductwork will be doing the heavy lifting. Ductwork is the piping and connective tissue that connects from your furnace to each and every room in the house. The setup of your ductwork might seem simple enough, but it's actually a bit more complicated than you might think. For example, each room will require different sized ducts connecting it to the furnace, depending on the size of the room. This can lead to a lot of little corners, curves, bends, and places where the ductwork could become leaky. A large percentage of homeowners have leaks in their ductwork right now and don't even realize it. While a couple of small leaks here and there might not be putting a huge dent in your pocket when it comes time to pay your monthly energy bill, even minor leaks can cause issues that you would want to resolve immediately if you knew their cause.
Duct Sealing Methods
There are a few different duct sealing methods you can use if you think you have leaky ducts and want to address the issue. In order to bring you up to speed on how you can fix your leaky ductwork in the way that best suits you, let's go through a few of the most popular options on the market:
1. Duct Sealing Tape
One of the ways you can seal leaky ductwork is with hvac duct sealing tape. Also known as aluminum foil tape, hvac duct sealing tape comes on a roll and can be found in every hardware store. This method for sealing leaky ducts can be less time consuming and messy, but doesn't tend to stack up with other duct sealing methods in terms of performance and longevity. If you have ducts that get dirty or oily quite commonly, duct sealing tape is likely to fail. However, if you insist on using this option for whatever reason, your best bet is to go with either foil tape, butyl tape, or any other kind of duct sealing tape which is marked with the UL logo. This logo stands for Underwriters Laboratories and signifies that this tape is suitable for residential use on ductwork. Never try to seal your ducts with regular duct tape, it's not fire or smoke-rated and will not hold up for very long.
2. Mastic Duct Sealant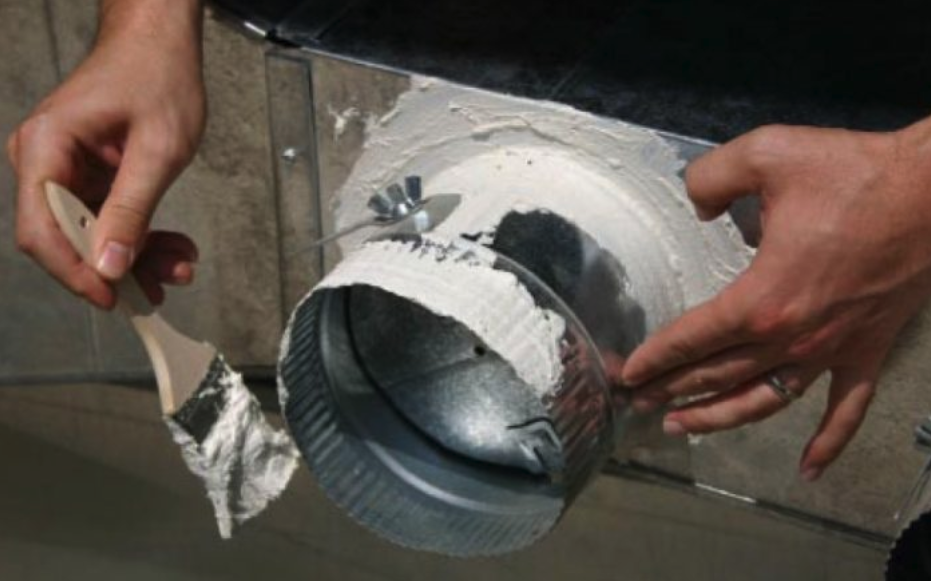 While tape can be a quicker and easier fix, it tends to be more expensive and less durable in the long run. A better option is to use mastic air duct sealant. This is a gooey substance which hardens after being applied to your ducts. Water-based mastic duct sealant is the best option because it cleans up easier and will hold up for a long time. When using mastic duct sealant on your own, you can apply it with a simple paintbrush. You may also use a caulk gun to apply the duct mastic, though it's not necessary. Remember not to get duct mastic sealant confused with regular "duct seal". Duct seal is for sealing the outside of your home around electrical wires and other tiny gaps. It is not made for use on your leaky ductwork. Depending on the size of your leak, you may need to combine your liquid mastic with another product such as fiberglass mesh tape. This applies to gaps bigger than ¼ of an inch.
3.Orogold Air Duct Cleaning Duct Sealant
While it's true that mastic for ductwork is the best DIY choice when it comes to durability and cost-effectiveness, sealing ducts with mastic yourself can be a tricky proposition. Especially in those hard to reach areas, it can be nearly impossible to use mastic sealing for ducts on your own when there are hidden leaks behind drywall. That's where Orogold Air Duct Cleaning comes in. Orogold Air Duct Cleaning uses a patented technology to pressurize, identify, and seal every single leak within your entire ductwork system. Their duct sealing technology has actually been called "one of the best scientific and technological accomplishments since this department was first established" by the U.S. Department of Energy. Orogold Air Duct Cleaning can completely remove the mess and struggle from mastic sealing ducts on your own. First, the technician will block all of your registers and vents in order to pressurize your system. Once pressurized, computer technology is utilized to identify all the leaks, cracks, and holes in your ductwork. Next, the technician will measure your leakage to provide you with a before and after comparison of your air duct leakage. Once this is done, they will begin distributing their mastic sealant for ducts throughout the air vents and ducts. The technology used is so precise that they only use the exact amount of sealant needed, making cleanup a breeze. Once finished, the team at Orogold Air Duct Cleaning will re-measure your ductwork to see what the leakage percentage is, and provide you with a before and after comparison. Orogold Air Duct Cleaning's customers notice an immediate improvement in their air quality. Rooms that weren't getting enough air before are now getting exactly the amount that they need.  The actual smell and purity of the air is better too. This is because once the leaks in the ductwork are fixed, dust and dirty air cannot get into the pipes and be spread throughout the house. Now, all it will take to maintain perfect indoor air quality is a good air filter, which you won't have to change as often because there won't be as much dirt and dust getting through.
Let the Professionals Seal your Leaky Ductwork for the Best Results
While it is true that there are a few different ways you can try to seal the leaks in your ducts, letting the pros handle it is the best decision you can make. There are bound to be small cracks and leaks in places you can't reach on your own, meaning that a pressurized system like the one Orogold Air Duct Cleaning uses is the only surefire way to get the best results. If you want to improve your indoor air quality, save money on heating and cooling, and make sure every room is getting the exact amount of warm or cool air that it needs, booking an appointment with a company like Orogold Air Duct Cleaning is the smartest thing you could do.
_ What Our Customer Say? _
_ Our Service Locations _
Servicing all of Austin Tx
Kyle,
Manchaca,
Buda,
Lakeway,
Westlake Hills,
Driftwood,
Cedar Park,
Pflugerville,
Georgetown,
Round Rock,
Liberty Hills,
Hutto,
Manor,
Spicewood,
Leander,
San Marcus,
Wimberley,
Taylor,
Rollingwood,
Del Valle,
Bastrop,
Creedmoor,
Sunset Valley,
Lago Vista,
Paige,
Horseshoe Bay,
Lockhart,
Hays,
Bee Cave,
The Hills,
Cedar Valley,
Bear Creek,
Burnet,
Lampasas.
Feel free to contact with us for any kind of query.
Thank you for your interest in hiring Orogold Air Duct Cleaning. We consider communication with the customer.
Get a quote for your next cleaning