We are Orogold Air Duct Cleaning
Chimney Sweeping And Cleaning
We are the Best Air Duct Cleaning Service in Austin TX
If you are looking to hire experts for your HVAC system, So you are on right place!
We are committed to the best quality in the field of industrial cleaning, home and Sanitations or Air Duct Cleaning.
Chimney Sweeping And Cleaning
Your chimney is an integral part of your home, and it needs to be kept clean to work properly. However, most homeowners don't pay attention to a dirty or clogged chimney, which can lead to several problems. Smoke and fire damage from an unswept chimney can result in health hazards and even structural damage to your home. That's why it's a great idea to have your chimney cleaned regularly.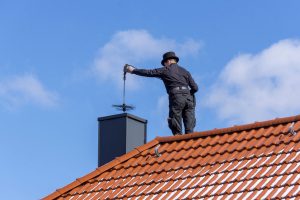 What Is A Chimney Sweeping and Cleaning Service?
A professional chimney sweeping and cleaning service specializes in keeping your chimney clean and in good operating condition. These services are available on an ongoing basis, such as a monthly or quarterly cleaning, or as a one-time service in the case of home construction, for example.
The Benefits of Chimney Sweeping and Cleaning
As you'd expect, there are many benefits to chimney sweeping and cleaning – most of them having to do with safety.
Improved performance and efficiency. Just like regular automotive maintenance results in a smooth day-to-day experience, maintaining your chimney increases the efficiency of your home's heating. A clean chimney allows more airflow through it, which decreases the amount of harmful exhaust gasses that can accumulate in your home.
Cleaner air in your home. Nobody wants to breathe unclean air smelling of soot and smoke, and it's doubly harmful for children and the elderly, whose health conditions it may exacerbate. A dirty chimney can accumulate dirt, dust and debris, as well as mold and mildew, which can decrease indoor air quality.
Reduced risk of a chimney fire. A chimney sweeping and cleaning expert will remove creosote buildup from your chimney, which greatly reduces the risk of a chimney fire that can be potentially dangerous to you and your home.
Chimney sweeping and cleaning are important preventative measures to keep your fireplace working as intended. It also helps you avoid structural damage from wear and tear on your chimney caused by the environment and weathering. If you'd like to schedule a chimney sweeping and cleaning, call us in Austin, TX and surroundings!
_ What Our Customer Say? _
_ Our Service Locations _
Servicing all of Austin Tx
Kyle,
Manchaca,
Buda,
Lakeway,
Westlake Hills,
Driftwood,
Cedar Park,
Pflugerville,
Georgetown,
Round Rock,
Liberty Hills,
Hutto,
Manor,
Spicewood,
Leander,
San Marcus,
Wimberley,
Taylor,
Rollingwood,
Del Valle,
Bastrop,
Creedmoor,
Sunset Valley,
Lago Vista,
Paige,
Horseshoe Bay,
Lockhart,
Hays,
Bee Cave,
The Hills,
Cedar Valley,
Bear Creek,
Burnet,
Lampasas.
Feel free to contact with us for any kind of query.
Thank you for your interest in hiring Orogold Air Duct Cleaning. We consider communication with the customer.
Get a quote for your next cleaning